PHAT PASTIES – PHAT PROFITS franchise orchard presenting an opportunity to join the success of…
The Phat Pasty Company
a fantastic Franchise Orchard opportunity awaits you.
www.phatpasty.com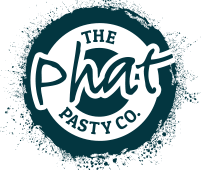 WE ARE REVOLUTIONISING THE OFFICE LUNCH
By combining freshly baked traditional Cornish pasties, high quality homemade sandwiches, baguettes, salads and soups and delivering with our unique brand and our distinctive Phat van, we are changing the 'delivered to work' marketplace.
Pasty Van has been developed by us to give our franchisees the opportunity to grow their own businesses, built around local offices, industrial estates and local events.
Your business working to our systems
This business is designed to be operated from home and can be either a simple 5-day operation or extended to include events and functions in the evenings or weekends. Over time the business may be extended to operate a number of Phat Vans from a small lock up industrial unit which acts as a 'hub'.
Just launched into trial, the Phat Potato Van is also being developed to give franchisees even greater variety and the opportunity to grow a multiple Phat Van business.
Turnkey package
This is a franchise in which we provide a total package to get our franchisees up and running, with top quality support and expertise to help grow their own business.
Working from home, the business is designed to fit around individual lifestyles and to minimise the headaches associated with many other retail or franchised operations –
Say "No!" :
Rents to pay
People to employ
Money to chase
Major capital investment
This all makes for a great business which can be quickly set up and established in a franchisees home town with fantastic potential to grow into a multiple Phat Van business. Everyone who sees the Phat Vans loves the business and franchisees will love the returns.
Could this be your next franchise?
For further information and contact details about this Franchise Opportunity, please fill in the form below to download a free information pack. Fields marked * are required.