Superwipes franchise orchard presenting an opportunity to join the success of…
Superwipes
a fantastic Franchise Orchard opportunity awaits you.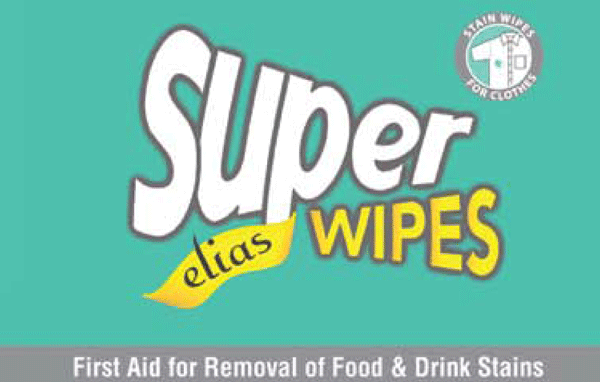 Elias Super Wipes was successfully launched on April 7 2011 by our brand ambassadors; Gareth Southgate (football pundit, ex footballer and manager) and Gail Porter (comedian, TV presenter and celebrity super mum). We are already selling our wipes through our London retail outlets in St. John's Wood, Hampstead, South Kensington, Kensington, Walton Street and Belgravia.
Elias Super Wipes are now available to purchase from Elias Products Ltd., a London based developer of fine cleaning products for the elite dry cleaning industry. The special formula contained Elias Super Wipes acts fast on stains such as wine, fruit juices, sauces, coffee and baby spills and much more…
How The Franchise Works
Our franchisees provide a high quality product to retailers on their exclusive franchise territory. Franchisees supply Elias Super Wipes to retailers on a sale or return basis. The franchisee will supply a display stand if required by the retailer. After four to six weeks the franchisee returns to the store to restock the display and invoice the retailer only for the Superwipes that have been sold.
Support
The greater success our franchisees enjoy; the more successful we are as a company. Therefore, Elias Super Wipes understands that communication and support are of paramount importance to all of our franchisees. This all starts with the initial training which takes place at head office and on territory. Then we provide regular field visits by our support team to ensure that you are maximising your sales and profit. A regular newsletter keeps you in touch with the company's development plans and the activities of your fellow franchisees.
We hold regular sales conferences for the entire franchise network along with regional meetings throughout the year. Of course we are always available on the telephone to help with anything, anytime for our franchisees.
So many people think of starting their own business – not just for the financial rewards but for the opportunity to be your own boss and run your own life. But the downside is that although you get all the rewards, you also take the risks. Taking on a franchise within a proven operation reduces those risks substantially. By joining Elias Super Wipes, you can reduce them even more!
Could this be your next franchise?
For further information and contact details about this Franchise Opportunity, please fill in the form below to download a free information pack. Fields marked * are required.